The Durham OneNet Regional Broadband Network (RBN) has been established to create a 700-kilometre fibre optic network.
The 36 kilometre fibre path heads north on Brock Road from Taunton Road, through the hamlets of Brougham, Claremont, and Coppins Corners, to Highway 47 and then extending south into Goodwood before continuing north on Highway 47 into Uxbridge. This project is partially funded by the Investment in Canada Infrastructure Program (ICIP). The Region owns the conduit and fibre backbone and is in talks with several Internet Service Providers (ISPs) that are interested in leveraging this backbone to serve rural residents and businesses. Once commercial agreements are signed, these ISPs will be responsible for building the last-mile infrastructure to connect homes to the service, providing increased access for residents and ongoing revenue for Durham OneNet. 
Construction on the project began in October 2021 and was completed in the summer of 2022.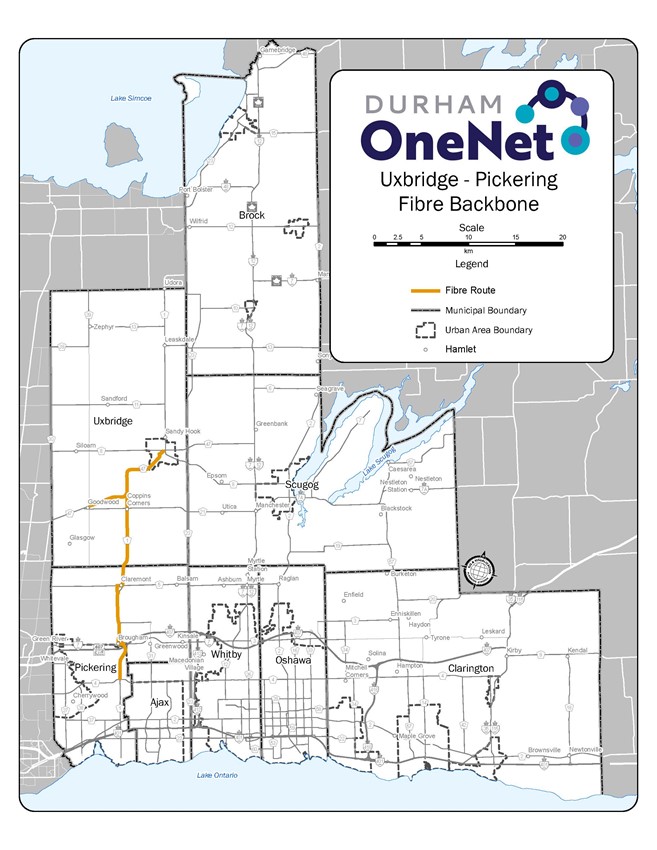 Durham OneNet has initiated a major expansion of the Regional Broadband Network into rural areas Durham.
This project is made possible with funding from the Federal Government's Universal Broadband Fund (UBF) program and Ontario's Improving Connectivity for Ontario (ICON) program.
We have partnered with Vianet to carry out the build and bring high speed Internet service to approximately 1500 rural residents and businesses in the following communities:
Balsam, Glen Major, Chalk Lake, Silver Spring Crescent, Victoria Corners, Blackwater, Saintfield, Manchester, Myrtle, Myrtle Station, Columbus, Raglan, Shirley, and south Courtice.
Construction began in late 2022 and is expected to be completed in 2025.